Name: Axe
Title/Nickname: The Axe Headed Buster
Generation: 3
Bot Type: Demon Bruiser 
Status: Offline/Working
Handler: Unknown
Health Status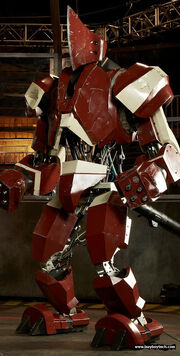 Strength: 48/100
Speed: 83/100
Special: 32/100
Armor: 24/100
Power: 89/100
Health: 28/100
Intelligence: 24/100
Card Information
Ability: Corrosive Fists
Origin: Canada
Weight: 1043 Lbs
Height: 8 '0"
Special Feature: Axe Head
Signature Move: Gut Buster 
Appearance
Axe has a dark red color with some white trimming. His head appears to be like an Axe. (The head was created to cut through steel). There are two L.E.Ds on each side that give a rustic yellow glow. Axe has an exposed abdomen and a chest with a wide line in the middle. Made for heat in the motherboard to cool. His fists are square with a narrow ending and have black dots that have more damage.  The feet look like block buster.
Fight Style
Axe Likes To Barrage With Light Attacks, Then He Does A Move. He Repeats This Pattern Until The Other Robot Is Destroyed. 
The Special- Kicks The Chest, Barrages Chest, Punches Head Twice, Then Lands A Blow To The Gut.
Fights Before Fallen
Axe vs. Fat boy: Winner: Axe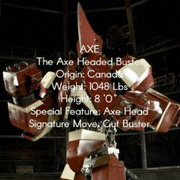 Axe vs. Meteor: Winner: Axe
Axe vs. Blockbuster: Winner: Axe
Axe vs. Impact: Winner: Axe
Axe vs. Hammer: Winner: Hammer
Axe vs. Impact: Winner: Impact
Community content is available under
CC-BY-SA
unless otherwise noted.