Assault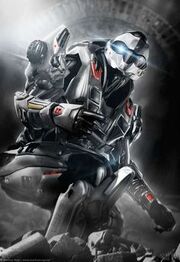 This page is the property of EpicdudeX123.
DO NOT DO ANYTHING TO IT!!!!!
Statistics
Statistics:
Armor: 27/100 (48/100 in Powerdrive Mode)
Power: 76/100 (151/100 in Powerdrive Mode)
Intelligence: 56/100 (110/100 in Powerdrive Mode)
Speed: 89/100 (177/100 in Powerdrive Mode)
Special: 34/100 (61/100 in Powerdrive Mode)
Strength: 37/100 (65/100 in Powerdrive Mode)
Special Moves: Swift Strike, Speed Charge
Finisher: Assaulting Blow
Information
Origin: Junkyard Scraps
Weight: 255 LBS
Announcing Line: The speedy striker, the fast hitter, prepare to face Assault!
Features: Strikeforce Core (Powerdrive Mode), Energy Sensor
Metals: Iron, Steel, Titanuim
Controller: Johnny John Johnson
Ability: Show Stopper
Generation: 3
Bot Type: Fragile Speedster
Status: Working
Height: 7' 6"
Total Wins: 23
Total Losses:
Ties: N/A Assault is a Fragile Speedster made from scraps from Junkyard Scraps. Assault, the fifth robot Johnny has, has two features. One is the Strikeforce Core. This core, when activated, increases Assault's stats to nearly double the normal stats. The other feature is the Energy Sensor. This sensor allows Assault to track and dodge the enemy by detecting energy levels and cores. Assault is a chrome-colored robot with blue LED eyes.
Origins
Johnny was walking around Junkyard Scraps when he saw an iron endoskeleton. He decided to build another robot for fighting and grabbed some scrap to build. He finished making the robot in a week and decided to name it Assault. He put it next to his other robots and went to sleep.
The First Strike
Johnny called Finn, the Crash Palace owner. He said he had built another robot and was ready to show it off. He drove to the Crash Palace and walked in with Assault. Aquabot was walking around in the ring, waiting for his opponent. Assault walked into the ring, facing Aquabot. When the bell rang, Aquabot jumped at Assault, throwing punches at his head. Assault tilted his head to dodge the hits and knocked Aquabot out of the ring, hitting his owner Arek Pekkanen. Arek tried to get up, but Aquabot was too heavy. Johnny had Assault pick up Aquabot off of Arek, freeing him. Arek thanked Johnny and forfeited the match to him.
Cashing In The Strikes
Johnny showed off Assault, who gave Johnny more money and fame.
Below are the fights and rewards from the Underworld.
Total money:$6950
Opponent
Result
Reward
Aquabot
Win
$500
Bluebot
Win
$500
Metro
Win
$700
Six Shooter
Win
$600
Blacktop
Win
$600
Fat Boy
Win
$600
Blockbuster
Win
$750
Bio War
Win
$750
Hollowjack
Win
$800
Midas
Win

$1200, The King

of the Underworld

title
Striking The WRB
The WRB heard about Assault and called Johnny about adding Assault into the WRB. Johnny said he would fight Blac Jac for entering Assault into the WRB even though he was already a WRB controller. The bell rang and Blac Jac threw a punch at Assault. However, Johnny activated Powerdrive Mode and 5 seconds later, Blac Jac was a pile of scrap. Assault won the match. Below are the fights Assault fought in the WRB.
Total money: $45000
Opponent
Result
Reward
Blac Jac
Win
$2500
Abandon
Win
$2500
Cosmobot
Win
$2500
Sun Wukong
Win
$2500
Hattori 2.0
Win
$2500
Nitro
Win
$2500
Excavator
Win
$3000

Crimson

Carnage

Win
$3000
Touchdown
Win
$3000
Tackle
Win
$4500
Steampunk
Win
$4500
Twin Cities
Loss
N/A
Twin Cities(rematch)
Win
$5500
Zeus
Loss
N/A
Zeus(rematch)
Win

$6500, Champion

of the WRB
Attack On Custom Bots
Assault defeated Zeus. He is the Champion of the WRB, and now fights custom bots.
Below are the custom bot fights Assault fought in.
Trivia
-Assault became a Fragile Speedster because a thief stole some metal plating that was originally armor for Assault.
-The Strikeforce Core was created by fusing two cores and a motherboard together.
-The Energy Sensor was designed by military experts for finding enemies and weapon attacks such as rockets.
Community content is available under
CC-BY-SA
unless otherwise noted.