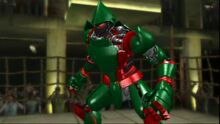 NAME: Ashra
GENERATION:3
BOT TYPE: Lightning Bruiser
RANKING: D:3:4
Information
Ashra has a body in which sometimes, his face is partially hidden. He also has spined fists, and has a head where the hat resembles an elf hat.
Real Steel Game
Ashra is ranked #4 on the DLC Stage 3, right below Nummskull, who is ranked #3.
Appearance
Ashra resembles an elf, with his colors and elf-like hat.
Stats
Strength: 79/100
Speed: 63/100
Intelligence: 41/100
Special Moves: 12/100
Trivia