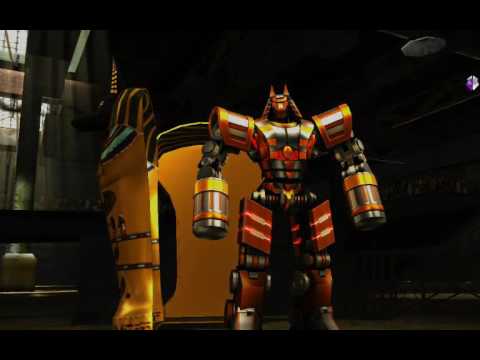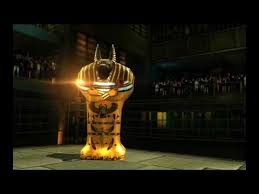 Name: Anubis
Title: The Golden Jackal
Weight: 972 LBS
Height: 8'4
Special Feature: Underworld Battlerage
Special Move: Underworld Strike
Super Underworld Strike
Ultra Underworld Strike
Trivia.
Anubis comes out of a sarcophagus in his intro. The same sarcophagus reappears if he wins.
A bug made Anubis' forearms protrude from the sarcophagus in his intro (this was patched). This is probably because of a clipping error.
Anubis dismembers his opponent's RIGHT LEG in his Rip Off. As for the opponent's head, Anubis literally pulls it off of the rest of the robot.
When Anubis gets a Special Finish, the camera glitches during his win animation. When Anubis gets a Rip Off, the camera is normal.
He has one of the shortest Special Move Miss Regens. His Super and Ultra Specials are even shorter because when he misses, he doesn't even swing at his opponent.
You can see Bio War's Platinum torso and arms from Real Steel: Champions on Anubis. Parts from another robot are seen on many superbots.
He has the same amount of attack and health as a 3-star Gridlock, and he has 20 more Special.
Community content is available under
CC-BY-SA
unless otherwise noted.